Fit & style
1.0 TOG fabric is ideal for moderate temperatures, ideal for room temperatures between 68°F and 75°F
Unique patented wings allow natural ARMS UP™ position, ARMS UP™ allows true SELF-SOOTHING™ = more sleep
Single layer of fabric to reduce risk of overheating
Certified 'hip-healthy' by the International Hip Dysplasia Institute allows recommended flexion for hips & legs
Twin zipper for easy diaper changes
No loose layers to kick off or unravel during sleep
Swaddle in seconds with no breakouts
Snug fit for secure feel, warmth and comfort
Proudly supporting First Candle and SIDS research
Easy care: machine wash on gentle, tumble dry on low
Specifications
Material:
93% Cotton, 7% Elastane
Garment Style:
Sleeveless, Two-Way Zipper
Garment Details:
Covered Zipper at Neck, Single Layered Construction
Adaptive features:
Ease of Dressing
Description
When you place your baby to sleep on their back, their natural position is for their arms to go up. The Love To Dream Swaddle UP Original features a patented design that allows you to swaddle your baby with their arms up in this more natural position. The medical reason behind baby's desire to have access to their hands is that when they wake up at night, they want to self-soothe, which is simply stroking their cheeks or sucking on their hands. If they are swaddled with their arms restricted, they cannot do this, which causes them to wake, get frustrated, and try to get out of traditional swaddles. The Swaddle UP is a stretchy blend of Cotton and Elastane designed to be snug and cozy around their torso, contain baby's arms, and thereby calm the startle reflex, encouraging a long, restful night's sleep for Mom and baby. The Swaddle UP is safer than swaddling your baby with traditional blankets. With the Swaddle UP, there are no difficult wrapping techniques required and no risk of dangerous loose blankets in your baby's crib. The Swaddle UP's dual zippered design allows you to do diaper changes while keeping baby swaddled and has no pesky snaps, noisy easy closure or tricky wrapping, ensuring that your baby stays comfortably swaddled all night. In addition, the Swaddle UP has plenty of room for baby to move their legs and hips, and recently received recognition from the International Hip Dysplasia Institute (IHDI) as being a 'Hip Healthy' product. The Love To Dream Original Swaddle UP is Stage 1 in Love To Dream's 3 Stage Sleep System. Since 2008, Love To Dream has been finding simple, yet genius solutions to everyday parenting and baby needs. The best news of all is that our products work. So everyone in the family will achieve a better night's sleep. Functionality, usefulness and innovation are key for Love To Dream.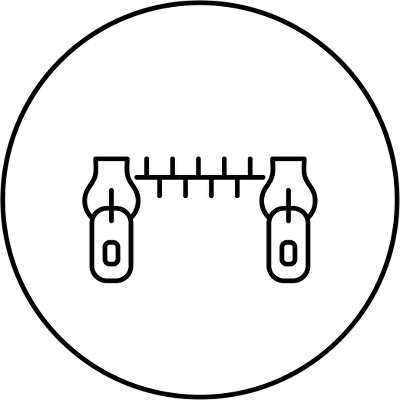 2-Way Zipper
2-way zip design keeps baby warm and snuggly during diaper changes